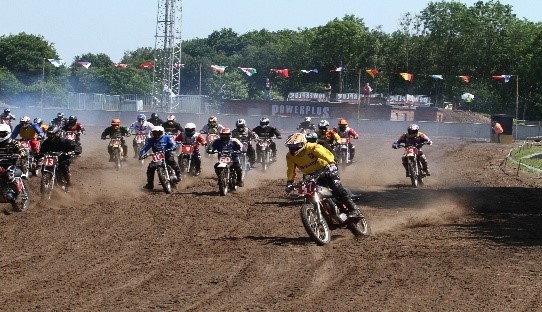 The Classic Motocross des Nations
zaterdag 21 september
circuit Trimunt

Kom gezellig genieten van deze landenwedstrijd met coureurs uit meer dan 15 landen
BEAUTIFUL CLASSIC MOTO CROSS IN MARUM NL
Over 50 teams out of 13 countries in Europe take part in the Classic Moto Cross des Nations 2019 on 21 th September in Marum NL. Come and see what this old technic from the 50's and 60's from the last century can bring to exiting competition and nice sport.
Fighting for the honor of their country, over 200 riders will start on Matchless, Eso, CZ, Husqvarna, Bultaco, Triumph, BSA etc. etc. to have a fantastic classic race day. If you love the wonderful old technic, you have to come to Marum and look around in the paddock and riders will give you an explanation of their bikes.
Visit on 20th and 21th September Marum and enjoy also the very nice surrounding.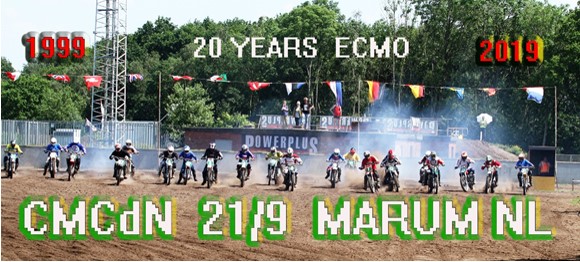 Dear sport friends, in this special year we hope that the CMCdN in Marum will bring a lot of fantastic classic motorsport. The organizer has promised to make something great out of this event. And knowing the club I am sure it will be something beautiful. I am already looking forward to the presentation of the teams in their outfit and listening to the national anthems. The impressive atmosphere and the ECMO friendliness. I, all of us, hope for many teams from the various countries. I wish the team captains a lot of wisdom in putting it together.

S E E Y O U I N M A R U M.
New ECMO champions 2019 are known

An exciting apotheosis at the end of the season

The adjusted CEC series for the European championship was particularly successful, but the differences were very small. There really had to be a fight for every point, but with honesty and respect for the opponent. At the top it was almost a photo finish, only 1 or 2 points made the difference over the 6 manches. Magnificent! This is how this fascinating CEC series in Netolice ended.

ECMO expresses its great appreciation to the organizers in Ramonchamp (FR) and Netolice (CZ). They have again proven how the classic cross can provide great motorsport and also attract more and more visitors. The adjusted program, after the unfortunate outages due to bad weather in Casal Monferrato (IT), worked out well and made everyone happy.

Now we are looking forward to the last ECMO event in Marum (NL), the CMCdN (Classic Moto Cross des Nations).

This grandiose happening will take place on 21 September, so book this date in advance, you will not regret it. Take some days off, beautiful!

We 'll meet again in September.

Alberto